About Nik's Blog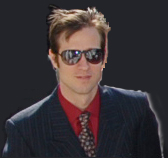 Thanks for stopping by… About 6 months ago I revived my blog which had been down for a while (since a server outage on our server at The Planet which effected the edmeades.net domain).
Anyway, I don't think I write for the love of writing necessarily. My blog isn't really a public-diary or report on my life. It's mostly rants, and things I just have an urge to tell the world at a particular time.
I post more detailed accounts of my family life on my Facebook notes, which are viewable only to my Facebook friends and their friends. I also blog under a pen-name elsewhere where anonymity and discretion are appreciated.
Have a nice day!